Work
A Senator's commitment to education
Shows in the website that helps kids, teachers and principals learn about and apply to grants.
Overview
Herb Kohl is one of Wisconsin's revered former senators, and former owner of the Milwaukee Bucks. He believes in education, and created the Herb Kohl Educational Foundation (HKEF) where he invests in education in Wisconsin in the form of grants to students, teachers and principals. There are two student grants, one is a more traditional grant given to applicants, the Student Excellence Award, and the second is the Student Initiative Award which is given to students who don't apply but rather are identified by a school as someone who just needs a little push to get them interested in college.
We've worked with HKEF for over 15 years, and they've donated $18.5m to teachers, students and schools. Not only did they want a site that helps students and teachers learn about the offerings, they want to showcase the winners and have kept a searchable database of award recipients for the last 20 years.
Design Strategy
A couple of years ago, HKEF wanted to hone in on their brand and build a new website that was more user friendly and helped people find more easily the requirements and how to apply. We helped create the branding for HKEF and the site design.
The story of Senator Kohl is inspiring, and we wanted the site to embody that feeling. At the same time, we wanted to have the feel of an philanthropic institution that fosters collaboration and community change. To do that we used rules and typographic visuals that aren't commonly seen online, and an open, inviting site.
The past recipients tool also need to feel like it just belonged. Using rules and gradients along with distinctive form elements, we found a look at feel that invites people to explore the recipient names and schools, and ensure people of private schools or homeschool students and parents that KHEF didn't leave them out.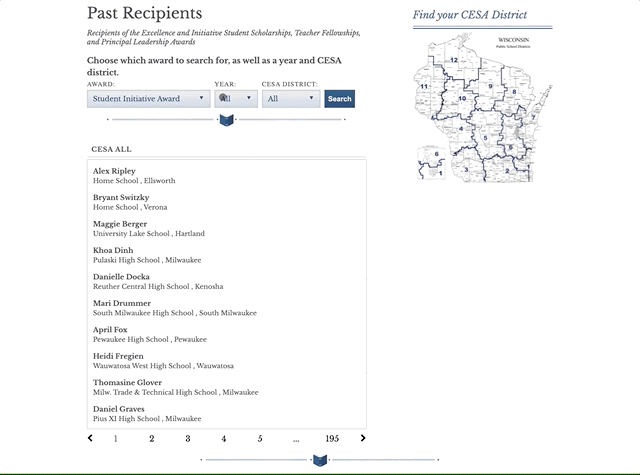 Byte has created multiple websites for us and the customer service has been consistently outstanding. They are an enthusiastic supporter of the work of our educational foundation. They demonstrate their commitment by finding ways to help us minimize costs without compromising quality.
Herb Kohl Educational Foundation