Web Design
Website Design & Development
User Experience (UX) Design
Interface Validation & User Testing
Byte is a fiercely independent, consultative and brand focused web developer. Byte creates website experiences that are moving, meaningful and measurable.
Working with Byte is a different experience than most vendors. We're consultative. We ask questions. We challenge. We bring new ideas to a project. And dig deep and do our homework. This process makes a different kind of website, one that's unique and beautiful, but also highly functional and connective with visitors.
Creating fully unique, beautiful experiences isn't what we set out to do for a client. We set out to create a website that represents a client well, communicates their messaging and promotes their goals. Because we help find and distill a brand/feel that's fully unique to the client, and we don't follow templates or tired design clichés, we always end up with a website that's fully unique to that client.
We're probably the most transparent web development studio you'll ever meet. Web design is not a one-size-fits-all industry, we're not for every type of client, so let's talk about how to understand web designers.
A smarter website consumer
While you're looking at Byte, you're also looking at other web design and developers.
We think it's worth the time investment to talk to at least three different web designers. Since web design is a seen as technical business, it's easy for a web designer to talk "above" a client and bombard them with statistics and facts. Yet this is a sign that they're not actually listening, especially if the designer is overly salesy. We work very differently, and while we certainly get passionate about solutions, the solutions we talk about and the problems we want to solve are really not technical, they're human.
Another thing to notice when interviewing web designers is how curious they are in general. Curiosity and a desire to learn is common for technical people, but it has to be about more than how to code or design. The best web designers in the world are the ones who consider every job a chance to learn something new and to try paint a bigger picture of the world around them.
The types of agencies that create web designs

| | Core capabilities | Advantages | Disadvantages | Costs |
| --- | --- | --- | --- | --- |
| Freelancer | Cheap, fast, templated basic sites | Cheap, fast | No depth, little tooling, boilerplate websites, service can end at any time | $ |
| Design studio | Design and branding | Great design | Doesn't get web or UX, outsources web projects | $$ |
| Application firm | Data and process applications | Solid applications, large variety of tech | Doesn't get brand or design, outsources design, many outsource coding | $$$$ |
| Ad / marketing agency | branding, design, marketing, ad buying | Everything under one roof | Outsources anything complex, very expensive | $$$$$ |
| Web development / digital studio | branding, design, data & process | Specialized in web, solid design, deeper websites, better web applications | Longer build process, doesn't do day to day marketing | $$$ |
While assessing web developers, don't look at their websites to tell the full story. Look at their work. It's extremely easy to come up with stats that support substantial increases and say that you'll get the same results, but a couple of stats don't tell the whole story. Here's how we look at a website:
Organizational
Visitor-based
Stylistic
Technical
Evidentiary

Does it achieve an organization's goals?

Does it position the organization in the right light?

Does it make a long-term impact on an organization?

Does the website grow with the organization?

Does the organization grow with the website?

Does it solve the visitor's needs?

Does it go on to delight visitors?

Did the visitor learn something?

Will the visitor share something from it?

Will the visitor promote it?

Is it unique?

Does it appear relevant over time?

Does it express and move the brand forward?

Is it finished, ie. are the details complete?

Is it connective and experiential?

Does it work on all modern devices?

Is it easy to add more features?

Does it pass external checks on standards compliance?

Does it last over time?

Code base -- can other developers read and understand it?

Does it load quickly and easily?

Analytics

Search engine visibility

Return on investment

UX / usability metrics

Accessibility

Compliance (with industry rules)
When we do our best work, we make custom, brand-focused websites that tell a deeper story with the grand hope of making the world a better place through our work. Here's who we think that works best for:
Companies or organizations that have a unique service level or unique products
Companies or organizations that share a unique vision or story to tell
Companies or organizations that have a strong aesthetic or stylistic feel
Companies or organizations that are harder to understand or need differentiation
Companies or organizations that multiple messaging and tooling like event calendars, locations, etc.
Companies or organizations that help tell their story with data
What kind of businesses or projects would be best served by a different kind of developer?
Companies that offer very similar services to others, like dentists, mechanics or HVAC specialists
Companies that trade in commodities, like amazon sellers, convenience stores, distributors
People that know exactly what they want, and just want us to enact it
Brand new companies hanging out a shingle to see who might bite
Companies hyper-focused on the ROI of a website over long term strategy
So now that we've covered how to understand web designers and the kinds of organizations that we'd work best with, let's talk about how the process that makes a website active and in living color.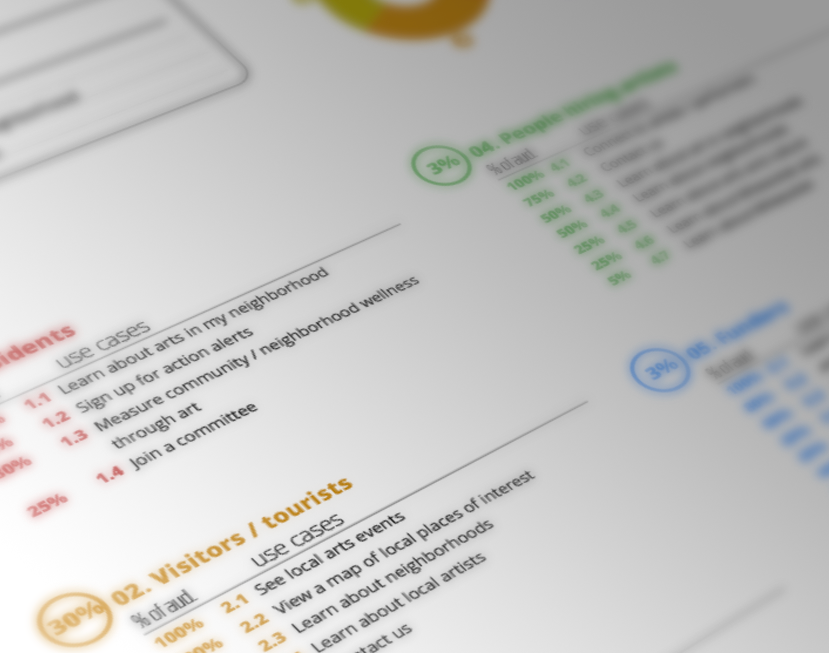 A complete content strategy
We start a website design project with a full content strategy phase. We ask challenging questions. We challenge the answers. We dig for meaning. And we do our homework.
A Byte content strategy isn't just a sitemap, it's a process of imagining where content will be collected and created over years, and what parts of the site will bring that content online. We divine content into meaning, creating a centralized and hierarchical taxonomy that distills into a site map. And, with a brand, we're finding the best voice for the website.
We cover our content strategy process in some detail.
We then create wireframes that explore page by page content layouts. Wireframes are layouts with, in our case, real content as much as possible, showing content hierarchy and order, but abstracting away design. This gives stakeholders an opportunity to react to the questions that content brings up and cross reference the earlier defined audiences and content requirements to see what's missing.
Design with meaning
We don't set out to make each site we do unique. But each client we have is fully unique, and our job is to make a website that fully represents a client. It's also important to lead through design. That means we don't follow the fashion of the hour - we won't use a "hero image", "hamburger menu" for desktop sites or "material design" unless that's the best way to tell the story. Instead we create a visual framework that's both communicative and unique, and design a website that's fully unique and has its own voice.
While much of the web design world follows a theme-forward solution (making a design basically from a theme), we're not encumbered by themes. (Lookin' at you, Wordpress!) We use and make space effectively (slide-outs and pull-downs, etc.), develop content hierarchies and groupings, find navigation systems that make understanding the site's content easy. We create a series of "buckets" or callouts that give organizations an opportunity to lead people to worthwhile content, and use animation and builds to add a level of detail that adds an emotion to the content that can't be done statically. When we design a website, we don't create about how hard something will be for the programmers. (Our programmers are good natured and love a challenge.)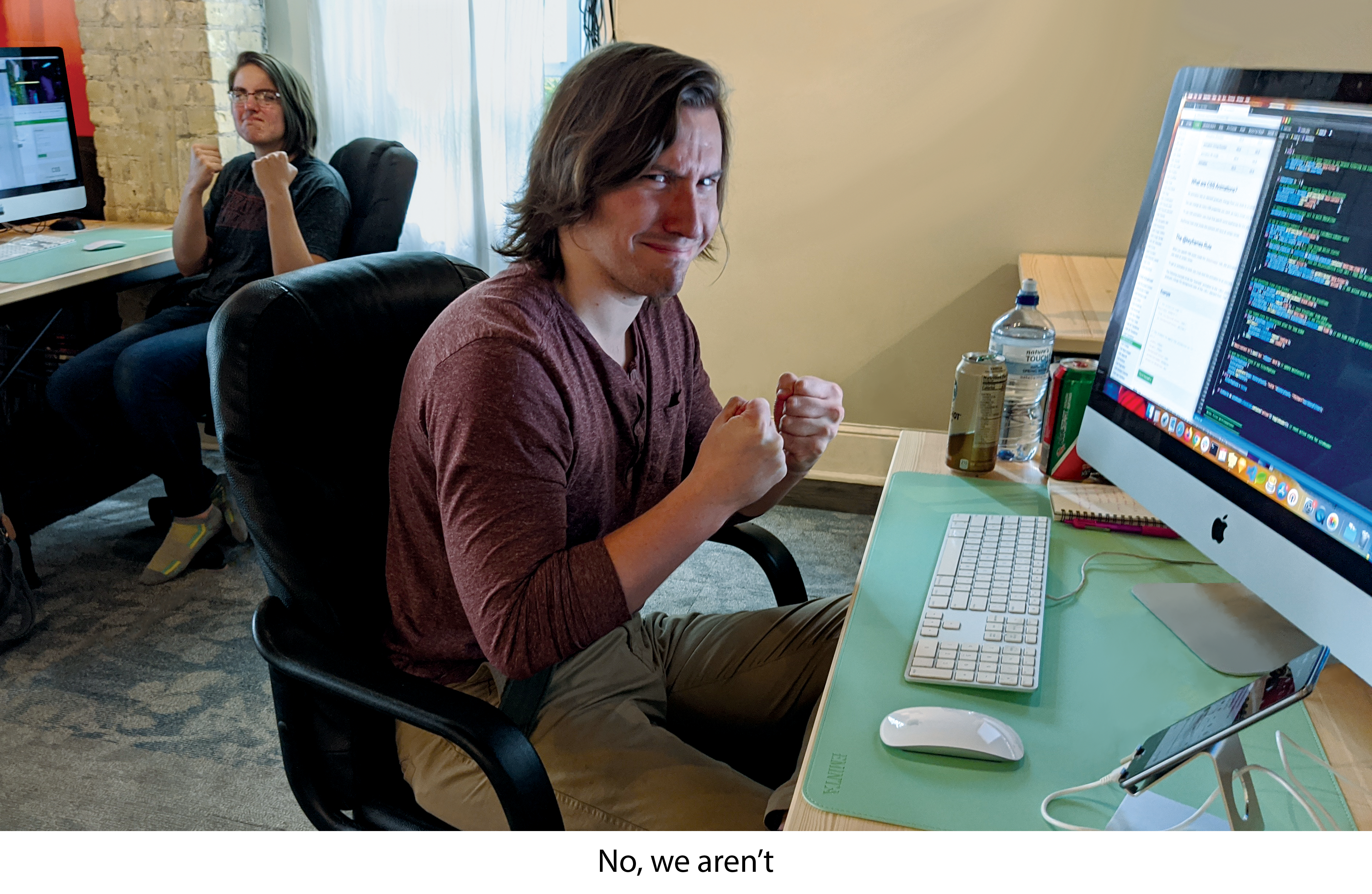 Standards-based coding
With our years of web design experience, we've learned a bit about how to code for the long-term. Since we're going to support the website for a long time (see the support section below), we're going to code it by hand and test it in every modern browser. More importantly, while most places just write code and send it out the door, we need that code to be usable for a wider range of humans and bots: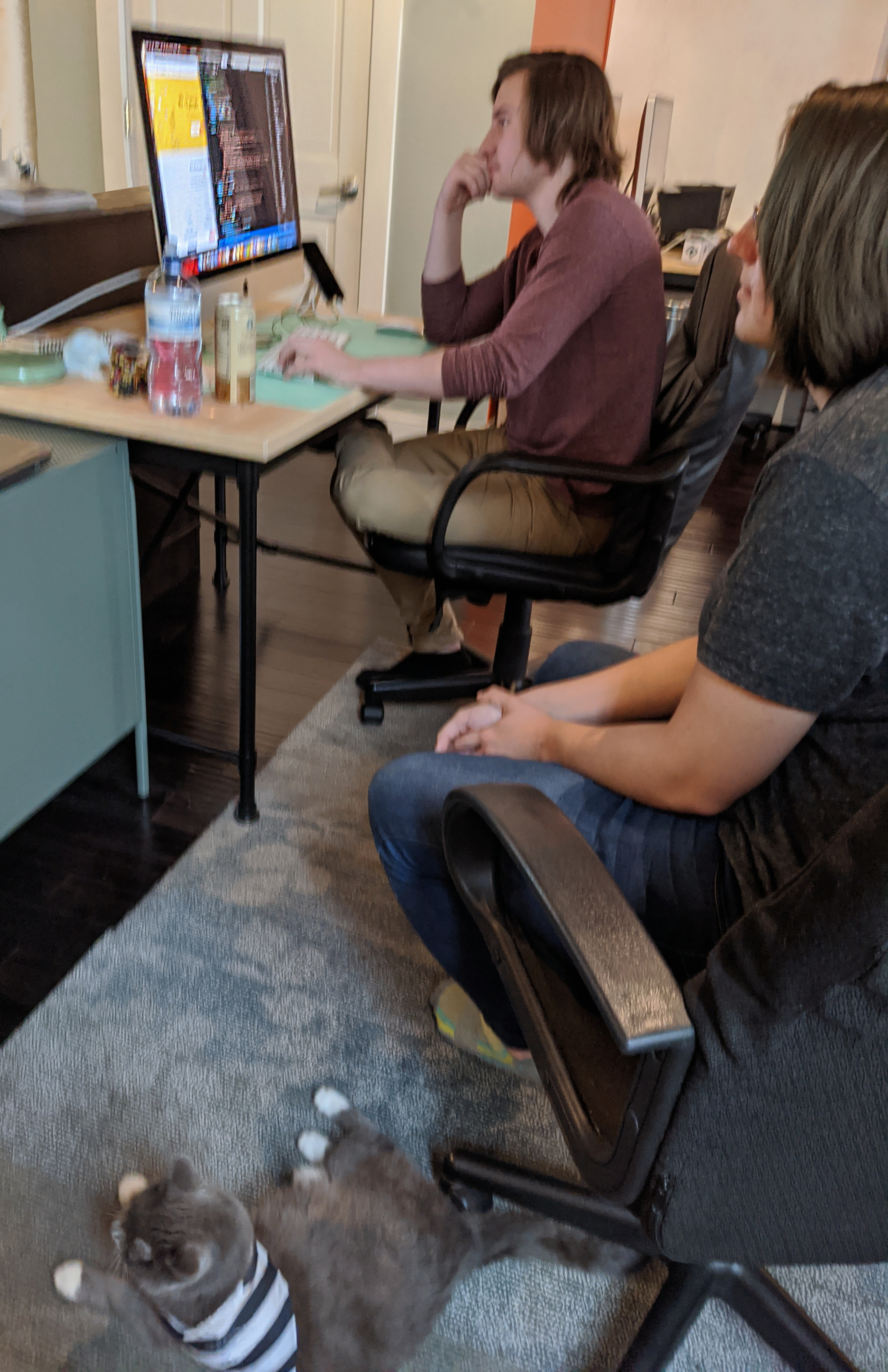 Website visitor (human)
Website visitor (bot, including search engines)
Social media or other sharing tools (bot parser)
Website content manager (human with messaging powers)
Website coder (human with nerd powers)
Database administrator and designer (human with data nerd powers)
Future website coder (4th dimensional human)
We hand-code our websites without using large front-end frameworks because it makes a far more standardized, "semantic" (code with clear meaning) web site. We create real pages in real directories that follows the site's content strategy, connect to straightforward data tables, and denormalize and process data to make things highly efficient for delivery. The more semantic and standards-based we are, the easier everyone's job is now and in the future.
Full-service delivery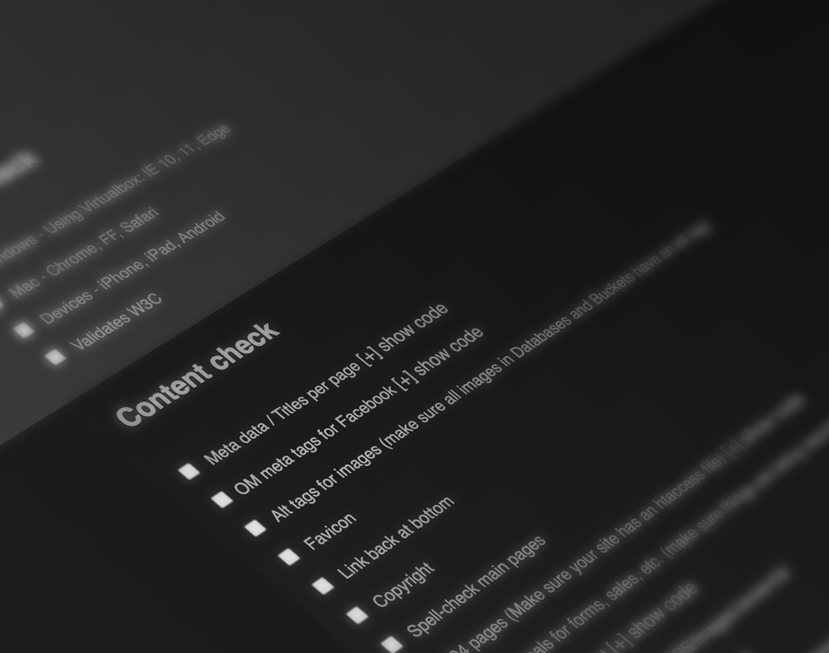 We have a full go-live process that covers visual checks, content checks, offsite tool registration, social management, search engine forwards and a lot more. Here's an overview of what we do to go live:
Install the site on a production server
Manage the DNS
Set up site backups
Install analytics tools, create analytics user to get info from analytics back into site
Install and maintain site certificates
Manage site monitoring and testing tools, including accessibility and usability
Register captchas, fonts, other offsite assets
Make forwards for all the current known pages of the old site to appropriate new pages
Add tasks to server "cron" so the site can run its internal search engine and other checks
Ensure pages share accurately to social sites
Set up outgoing form email accounts, test forms
...and about 30 more items not worth mentioning here, not to mention custom items
The entire process is seamless and requires very little intervention from our clients. We'll ensure there are only momentary downtimes when we switch, and that no other services are affected.
Lifetime support
Entropy is a part of life, and technology's entropy is fierce. On the server side, operating system vulnerabilities are found and patched, daemon software is updated and upgraded, and perfectly working systems just fail to proceed. On the browser side, in the lifetime of a long-lived website, entire standards are built and updated, browsers get new features and deprecate others, people adopt devices with different screen sizes and security settings, and simple products purchased 4 years ago are hopelessly outdated.
We write software and websites that last longer because we do some distinctly old-school things: we don't overcomplicate things, we keep data fully standardized, and we employ security backports versus server upgrading. This goes in the face of the modern frameworks and dev-ops that is the silicon valley fashion. Dev-ops, modern frameworks and "transpiling" (compiling from one perfectly good language to another) add levels of abstraction and complication that need to be solved when the day comes that some inherent method becomes obsolete.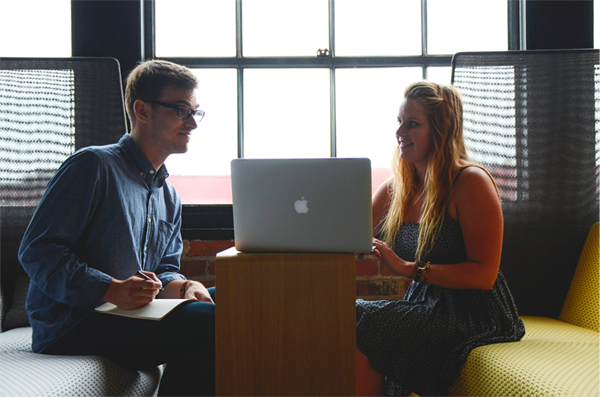 What does that mean for our ten-year-old websites? It means they're still running, and we're going to keep it that way. Of course ten year old sites are a lot smaller (screens were smaller) and they don't work on devices that didn't exist in 2009, and invariably software gets better and the regular internet surfer is a lot more tech savvy, so those sites do need to be rebuilt at some point, but they don't have to become an emergency rebuild when something stops working, they can be planned and managed properly.
And when the site or application is rebuilt, we'll support it for the next ten years.
---
The Byte difference
Byte is fiercely independent and quite different than most website designers. Our primary motivator is helping our clients create a better world, and our clients are out there doing that every day. Our secondary motivator is learning, building cool things, sharpening edges and pushing envelopes. Our tertiary motivator is money. We choose our clients accordingly.
We believe in relationships. We check in with our clients to see what they've learned about their sites. We take time to listen. We take time to learn. We're consultative and we bring completely new ideas to a project. Our process makes a different kind of website, one that's unique and beautiful, but also highly functional and experiential.
looking for a web team that will take the time to understand your organization's soul?
let's talk