Work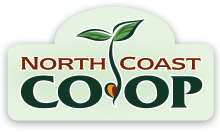 Services
Building a community and its economic viability
Through fresh, local, flavorful and delicious provisions and prepared foods
Overview
Nestled into California's Humboldt County, surrounded by redwoods, mountains and sea, North Coast Co-op (NCC) is a member-owned cooperative that's deeply committed to the health and economy of their community. With two locations, Arcata and Eureka, NCC is woven into the fabric and charm that is north coast California.
At first glance, NCC appears to be a natural foods store with high standards, but looking deeper we found that food ethics and community are built into the very DNA of the co-op. NCC offers a plethora educational classes and events from cooking to special diets to candidate forums to wellness. Every year, NCC meets with local farmers and food producers to help them plan crops and offer a sustaining minimum order. NCC helps sustain local farmers & producers who have enough product to sell to bigger grocery stores, and has helped fledgling producers get a foothold and grow.
NCC, like many food co-ops, believes in transparency, maintains clarity in their processes and policies, and treats employees like family members. They have a bulletin board that shows comment cards people have filled out with hand-written answers that describe what they've done to solve the problem.
Strategy
It's not possible to understand a food cooperative like NCC without being there and getting deep into the ethos and meaning of the co-op. We spent a few days in Arcata and Eureka to meet with the board, the marketing team and the locals to get a sense of what the co-op is about. We browsed as secret shoppers in both stores, and in other area grocery stores to see what the experience is like for shoppers.
Like most natural foods stores, shoppers often have perception issues about the price of natural food, and while co-ops across America are making great strides in having a version of "co-op basics" low cost, quality food in every department, they weren't effectively telling the story of what makes quality food better for the consumer and the community. We needed to both promote the discount brands along with the specials, and but we needed to create a stronger education program online so people know the value of what they're paying.
Like any co-op, there are pressures coming from every direction, and in the north coast of California, one of the big pressures is encroachment, everyone from gas stations to Sam's Club sells organics. The idea that organic labels are the same thing as shopping at your local food co-op is another perception that needs to be addressed. Sam's Club isn't doing more than two of the twenty things that a co-op does at every level of building a community or its economic viability, so it's a false perception that can be countered.
And one of the most important things we've learned from co-ops over the years: people are the co-op. And the co-op supports its people, from customers to staff to board.
Content hierarchy and design solutions
We worked with NCC through the long, arduous process of taking 1,000 ideas and trying to build a viable set of themed sitemaps. We followed the breadcrumbs of users, of types of food / prepared foods, of the impacts, and in the end we found that leading with the basic offerings (about, store), then values (good stuff we do, shop your values) and then site tools (calendar, news) housed the content the best.
In terms of design, the design architecture had to look like North Coast through and through, and it had to be unique. We used the redwood curtain to frame out the sides and footer of the site. The site also needed to help define the deeper parts of the co-op's brand, so we've added interface elements and backgrounds to make the site a complete brand package. We also used a wider navigation to help visitors quickly scan through the deeper items.

Tooling
We have build a variety of tools for NCC, from an active events calendar to a dynamic news system. NCC was progressing toward a full online system for members, board voting, issue management and more. The tools include:
Recipe database that will teach visitors them innovative ways to cook with better ingredients
A Co-op News section that has helped transition the monthly print piece into useful articles on the website and PDFs for people who like to browse in a more offline fashion
A comments system that allows people to fill out comment cards online, and staff can display them all so people can dig through old comments, much like they do in-store
A co-op can do so much more online and eliminate the use of paper for so many functions, and we're always game to build new tools.
Lagniappe
The people are what makes a co-op great, so we added recognizable faces all over, including the footer and the mega-nav menu.