Work
Local, sustainable, fresh and flavorful
The National shows how beautiful and delicious a Milwaukee original restaurant can be.
Overview
The National Cafe & Takeaway is one of Milwaukee's most-loved breakfast, brunch and lunch cafes. Their focus is fresh, local flavor, blended with international dishes like the full english breakfast or ramen.
They needed a site that would convey their commitment to quality and freshness, while showing off their creativity, their space and backyard outdoor seating, and amazing staff. We used the brand developed by Design Scout in 2005, and took it to the next level with this modern, engaging, easily updated site.
Strategy
When we started designing the site, we knew two things with certainty: It needs to be responsive (half of the site's traffic is through a mobile device), and it needs a menu that's easily read by both humans & search engines. We were able to achieve both by creating a scrolling one-page design that presents a similar experience on large and small screens. We put the cafe menu right on the site with HTML code, so mobile users can access it quickly with their limited bandwidth.
The site also covers more details on the food or catering by having panes people can slide or swipe through the content. Catering is a strong component to The National, so having visual interest along with beautiful photos help people know the quality level their catering is top notch. People need to know just browsing the site that The National has a great menu for people who are vegetarian, vegan, gluten-free, etc.
Being an independent restaurant with a truly independent flavor has been imperative for The National from day one. The moment someone walks through the door, the design aesthetic and colors and music speak to them as an independent and local place, no part of it is generic and ready for the mall. The space has been used by agencies and photographers as a perfect backdrop of an amazing experience. The site needed to do that, too, it needed to shine in a different way than most off-the-shelf restaurant websites.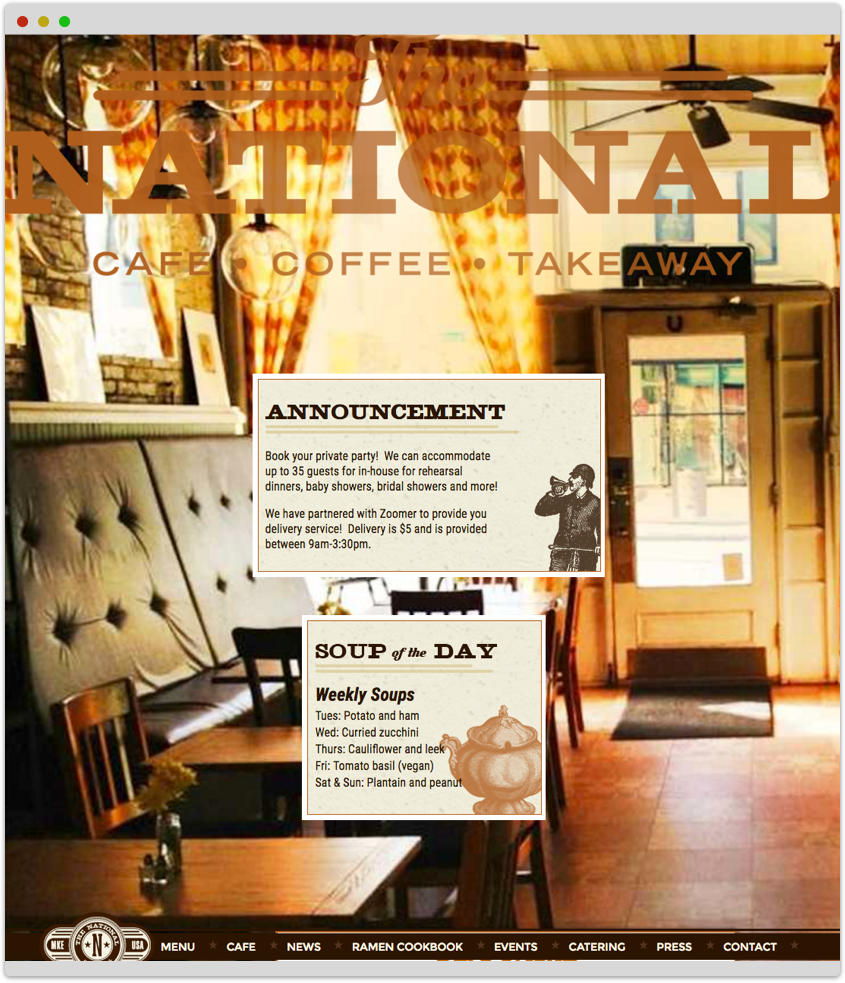 `